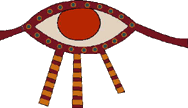 Twenty years from now you will be more disappointed by the things that you didn't do than by the ones you did do. So throw off the bowlines. Sail away from the safe harbor. Catch the trade winds in your sails. Explore. Dream. Discover.
-- author Mark Twain
This Web site is authored and maintained by Ken Gaillot Jr. It was started in the year 2000 and is perpetually in progress. If referencing, the current year can be used as the year of publication, as minor corrections and updates are occasionally made.
Have comments or suggestions? E-mail seeking at boogieonline.com. (There was a form here, but a deluge of spam led me to take it down.)